Serving all of Iowa and the Greater Omaha area
We are not a franchisee.
K-Guard has licensed dealers throughout the USA.
K-Guard vs. Competitor
No other system can offer the complete range of benefits that K-Guard provides
K-Guard Gutters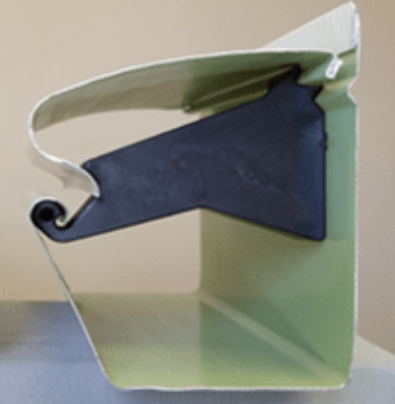 Competitor Gutters
K-Guard
Larger Size:

K-Guard offers 6-inch gutters, providing a 40% increased water capacity compared to our competitor's smaller gutters.

Durable Hanger:

K-Guard features a robust, patented hanger design that ensures long-lasting stability and support, while our competitor relies on an unsupported trough.

Two Openings for water:

K-Guard utilizes two openings for water entry, effectively channeling rainwater and preventing overflow, which is a limitation in our competitor's design.

Two Piece system:

In the event of storm damage, including hail, K-Guard's two-piece hood is easily replaceable, saving you money on repairs.

S Lip:

The front opening features an S lip, making the front opening smaller making sure water goes in and debris doesnt.

Attractive Design:

K-Guard's seamless, aesthetically pleasing design enhances the curb appeal of your home, whereas our competitor's gutters may not be as visually appealing.

Cost-Effective:

K-Guard offers a competitive price point, ensuring you get superior gutter performance without breaking the bank, while our competitor's system tends to be more expensive.
Our Competitor
Smaller Size:

Our competitor's smaller gutters have limited water capacity, making them less effective at handling heavy rainfall compared to K-Guard's larger gutters.

Unsupported Trough:

Our competitor relies on an unsupported trough design, which can be less stable and prone to sagging over time, unlike K-Guard's durable hanger.

Single Opening:

Our competitor utilizes a single, larger opening, which can allow debris to enter the gutter system, leading to potential clogs and maintenance issues.

One Piece system:

In case of damage to our competitor, the entire system often needs replacing, resulting in higher maintenance costs.

Lack of S Lip:

Unlike K-Guard, Our competitor lacks an S lip, making its only opening a lot larger and less effective at keeping debris out.

Aesthetically Less Pleasing:

The design of our competitor's gutter system may not be as visually appealing as K-Guard's seamless, attractive profile.

Higher Cost:

Our Competitor tends to come with a higher price tag, making it less cost-effective for homeowners looking for quality gutter solutions.
Why The Competition Won't Hold Up to K-Guard:
In summary, K-Guard outperforms our competitor in several critical aspects. Our larger, 6-inch gutters offer 40% more water capacity, ensuring superior rainwater management. The durability of our patented hanger design provides stable, long-lasting support, while our competitor relies on an unsupported trough that can sag over time. Additionally, K-Guard's competitive pricing and attractive design make it a more appealing choice for homeowners. When it comes to gutter systems, K-Guard stands as the superior choice, offering both functionality and value that our competitor simply cannot match.
How K-Guard Compares
As Iowa's premier installer of the K-Guard gutter system, K-Guard Iowa offers both the benefits of a nationally trusted brand and a locally owned company. We offer free estimates on all services and a lifetime workmanship guarantee.
Scroll To View Comparison Chart double_arrow
| | 5" & 6" Style "Open" Gutters | K-Guard Premium Gutter Guards | Gutter Screens | After Market Gutter Toppers | One Piece Seamless Clog-Free System |
| --- | --- | --- | --- | --- | --- |
| Does not attach to roof | done | done | close | close | done |
| Does not require new drip edge installation | close | done | close | close | close |
| Full sized 6 gutter system | done | done | done | done | close |
| Seasonal Maintenance required | done | close | done | done | close |
| Lifetime no-clog guarantee | close | done | close | close | done |
| Lifetime no-leak guarantee | close | done | close | close | done |
| Lifetime workmanship guarantee | close | done | close | close | done |
| Price | $ | $$$ | $$-$$$$ | $$-$$$$ | $$-$$$$ |