Serving all of Iowa and the Greater Omaha area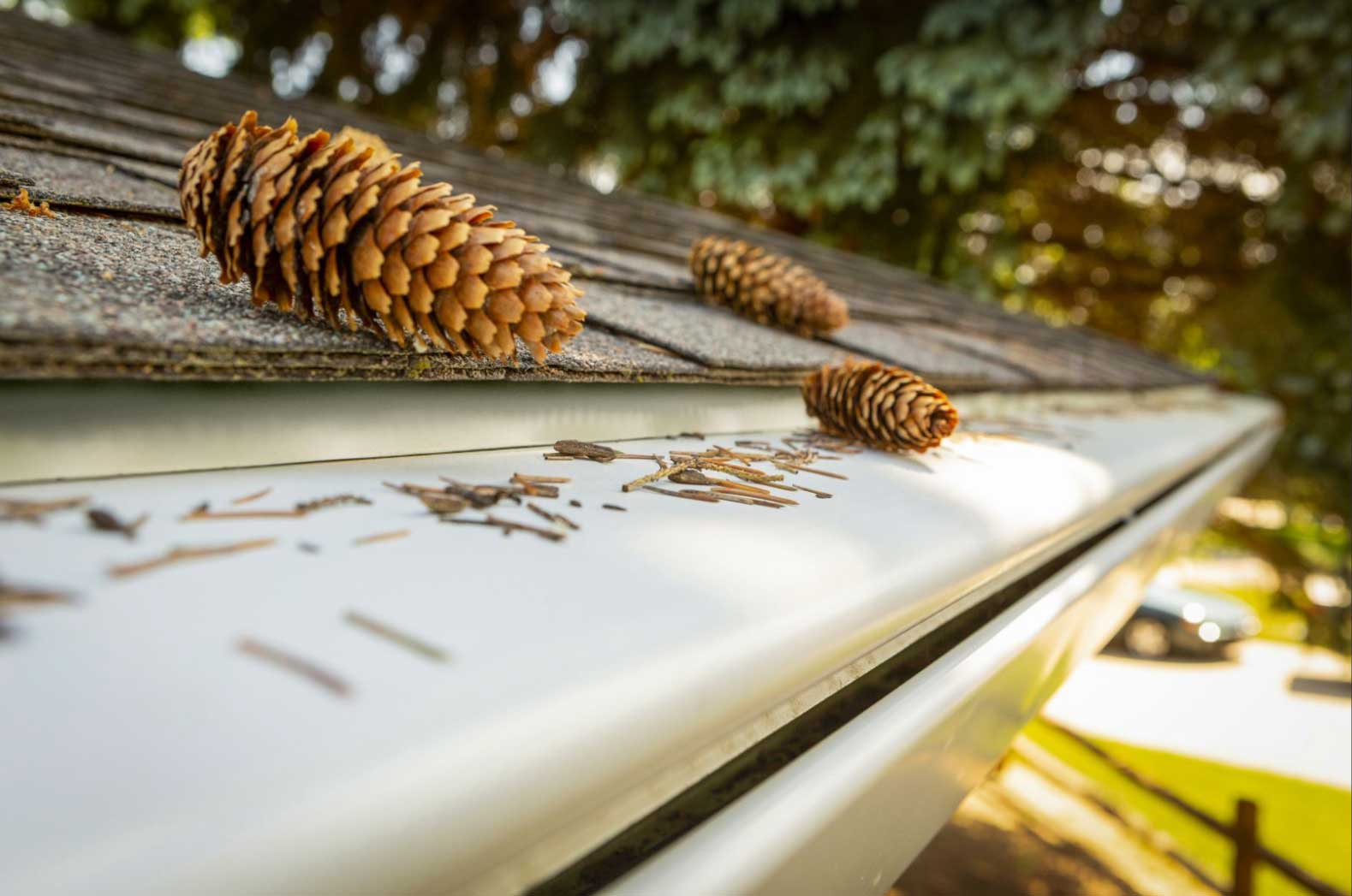 We are K-Guard
At K-Guard, we're more than just a leaf-free gutter company we're your trusted partners in safeguarding your home against the elements. As a locally owned and operated business, we understand the unique needs and challenges of our community. But what sets us apart is our unwavering commitment to excellence, backed by the support and resources of a trusted national branch. K-Guard of Iowa is proud to call this vibrant community home. Our roots run deep, and we take immense pride in serving our neighbors with top-notch service and superior products. Our team is comprised of local experts who understand the specific requirements of our region, ensuring your home receives the care it deserves.
Our gutter guard system is ideal for fixing a wide range of gutter-related problems, including:
Sagging Gutters
Rusted Gutters
Clogged Gutters
Poor Gutter Pitch
Leaking Gutter
Foundation Issues
The K-Guard system
The K-Guard leaf-free gutter system is a tried-and-true solution trusted by homeowners across 37 states, with an impressive track record of over 35 million feet installed. Crafted from heavy-duty aluminum, these gutters are built to last, ensuring they'll be the last gutter you'll ever need to purchase. Beyond their durability, K-Guard gutters also enhance the curb appeal of your home, seamlessly blending into its aesthetic while effectively bidding farewell to clogs and leaks. With its innovative design and extensive installation history, K-Guard stands as a testament to reliability and performance, offering homeowners peace of mind and a maintenance-free solution for years to come. Say goodbye to gutter worries and hello to a worry-free, beautiful home exterior with K-Guard.
Why Choose Us
Discover the K-Guard difference your home deserves nothing less. Contact us today and experience the peace of mind that comes with having the best in the business on your side.
Locally Owned, Nationally Known
K-Guard of Iowa is proud to be a locally-owned, nationally-known and trusted company dedicated to revolutionizing gutter protection. We stand behind every installation with outstanding service and support, and we install only the best products from the most reputable companies. The experienced team at K-Guard of Iowa has built a reputation for providing high-quality Leaf Free Gutter Protection Systems for homes and businesses at affordable prices.
Top-Notch Service
At K-Guard of Iowa customer satisfaction is our top priority. We go above and beyond to provide personalized solutions tailored to your home's unique needs. Our team of dedicated professionals is not only skilled but also passionate about what they do. When you choose K-Guard, you're not just getting a product; you're getting a team that cares about your home as much as you do.
Commitment to Excellence
Backed by a national branch renowned for its industry experience, K-Guard combines local knowledge with a legacy of excellence. We've honed our skills and mastered the art of protecting homes from the ravages of weather and debris. Our commitment to quality shines through in every project we undertake.
Industry Experience
With years of industry experience under our belts, the experts at K-Guard of Iowa have seen it all. We bring a wealth of knowledge and expertise to every project, ensuring that your gutter needs are met with precision and skill. Our team is well-versed in the latest industry trends and technologies, guaranteeing you state-of-the-art solutions.
Superior Product
Our signature product, the K-Guard Gutter System, is a testament to our dedication to innovation and performance. Designed to keep your gutters leaf-free and your home protected year-round, it's a game-changer in home maintenance. We believe in it so strongly that we proudly stand behind every installation with a satisfaction guarantee.
K-guard Lifetime Warranty
When we assure you that K-Guard endures for a lifetime, we stand by our word. Your peace of mind matters to us, and that's why each K-Guard gutter installation is supported by a lifetime no-clog warranty, coupled with a 5-year labor warranty.
Our Process is Simple & Stress-Free
When we take on a project, we follow a multi-step process to ensure a painless experience and final results that are of the highest quality. Of course, we're always in constant communication with our clients along the way in order to keep them updated at all times.
1

Free Estimate

---

Our team will assess your needs, offer expert advice, answer your questions, and provide you with a detailed no-obligation quote, tailored to your home all at no cost to you.

2

Preparation

---

Once you're ready to move forward, our team will work with you to schedule a installation date. We'll take care of all the necessary preparations, ensuring a hassle-free experience for you.

3

Work Begins

---

On the scheduled day, our skilled technicians arrive promptly and get to work. Our efficient process minimizes disruption to your daily routine, and you'll witness your gutter system transformed right before your eyes. They will work efficiently and professionally, making sure it's tailored to your home's specific requirements.

4

Final Results

---

At K-Guard, the job isn't finished until you're delighted. We take your satisfaction seriously. Our team will walk you through the completed work, addressing any questions or concerns you may have. Only when you're 100% satisfied, do we consider our job done. Your happiness is our ultimate achievement.
Our Reviews
"I have had KGuard gutters for over 3 years. Quality is excellent and they do the job fantasically. They came and replaced the covers damaged from hail and cleaned up after themselves. Very pleased and I highly recommend them."
Dennis D.
"I highly recommend k-guard of Iowa. My gutters were in dire need of repair and the small crew were professional and efficient. I opted for the best covers they offer which will be very nice for upkeep as I have many mature trees surrounding my house. I look forward to never worrying about my gutters again !"
Katie H.
"Professional crew showed up, removed old gutters and installed new gutters and downspouts within 4 hours. I would definitely recommend K-Guard, unless you enjoy cleaning your gutters!"
Mike M.
"I had KGuard gutters installed on a new garage, and they look and work great! They gave me a quote shortly after I submitted an inquiry and the work was done a couple weeks later. Overall, Im very happy with the value the gutters provide."
Lindsay P.
"Skyler at Kgaurd helped me as a first time homeowner, get the correct gutters I needed, installed on time, accomadated to my schedule and needs and was super nice and professional! My gutters look amazing! thank you!"
Reese D.
"On time, professional and great workmanship. Love the look of our new gutters and downspouts. They did an excellent job at a fair price. From scheduling to the installation, I would highly recommend! Some of their competitors are known to hire third-party contractors (and some from out of state). Never the same crew for installation. Kguard trains/retains same crew locally. They are proud of their work and so are we!"
RC
"Wow do these look great. Got K-Guard put on my house last year and they look fabulous. I wanted to wait until I went through all four seasons. Extremely satisfied. Would recommend anyone looking to give K-Guard a call."
Travis B.
"I had KGuard gutters installed on a new garage, and they look and work great! They gave me a quote shortly after I submitted an inquiry and the work was done a couple weeks later. Overall, Im very happy with the value the gutters provide."
Lindsay P.
"Great experience start to finish with K-Guard Iowa. Very professional, informative, and quality workmanship. Great product, would highly recommend."
Sante M.
"As for the K-Guard itself, it was really nice not to have to climb on the roof to clean out the leaves and gunk. I was worried that they would not be able to keep up with heavy rains and so far no problems. They are a nice, sleek accent to our roof and very low maintenance."
Sam I.